Interior Signs
Interior Signs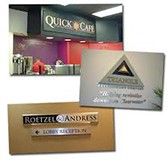 Hollow ribbed coroplast is a plastic sign material and often used for both indoor and outdoor signage applications. The Signage Grade is designed for ink adhesion and self adhesive vinyl applications. This material is different  from cheap coroplast packing material. Available in different thickness, 4mm 8mm and 10mm are the most common thicknesses. Common sheet sizes 4ft x 10 ft, 4 ft x 8 ft. This panel size may be of useful consideration when cutting coroplast to sign sizes.
Screen printing on coroplast, Multi flute or also known as Plastic Corrugated sign or coroplast sign, you can add any design. Low quantities, no problem, we use the latest digital wide format printers to print full colour signs. Screenprinting is best suited for 50 x each colour. Eg. 1 color= Red, 50 off is very economical, 2 color= Red + Blue, 100 off is the next economical quantity. 4 color= Red + Blue + Black + Yellow, 200 off is economical. For other lower quantities, you may also choose latex based inks( green environment inks) that are digitally printed. Quantity discounts are also available.
Add grommets to coroplast for fixing to fences, use as a builders site board or safety sign. Everything which is available in coroplast is also avail;able in PVC if you want to have a rich smooth look.
Coroplast or pvc is a very versatile product and inexpensive to manufacture. It can be used outdoors and Indoors. Great Ink adhesion properties and overall whiteness mean vibrant colours when printing.
NEW PRODUCT RANGE
Indoor or Semi outdoor LED SIGNS
Indoor electronic signs are amazing. Now very inexpensive, it gives you as the business owner a new power of flexibilty and marketing control. You can very quickly alter and update, add or delete, change and modify the electronic sign. Each message can transit across the pane from left to right, up down, spin, float and other computer effects.
Available in popular colors, the North American range of LED SIGNS ARE MADE WITH ABSOLUTE QUALITY AND BRIGHTNESS. The electronic sign is easy to program and each unit comes complete with all the features you need and all parts to operate. Simply plug the socket into the wall (normal 110 volt 660 Hz) and the electronic sign will begin to play.
Changing messages is easy and you will not need any training. Instructions are included and on the website. Also, there are many common sizes for signs so please call or look at our list here. Each electronic sign can scroll, flash, burst, open etc with many free features included with your purchase.
LED signs are Now Available in for shipping in North America, each indoor led scrolling message sign is made ready to open and play.