Building Wraps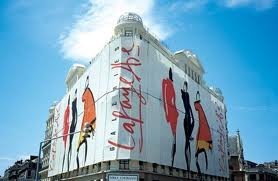 Big graphics make big statements. Many sports venues, construction sites, grand openings, real estate developments and corporate promotions take advantage of grand format sign solutions to reach audiences in a big way. If your goal is to raise brand awareness,  celebrate an event, beautify a hard hat area or promote real estate projects, building wraps are a highly visible and effective medium.

With an ability to attract eyeballs to its enormous facade, building wraps are universally recognized as an attention grabber and an excellent way to turn a building into a huge corporate identity billboard or platform for promoting your brand, event or project. 

Make a bold statement by using a simple graphic or dazzle with a digitally enhanced photograph. Digitally printed using UV protected Ultra-Brite Inks, your wrap will stand up to the weather and keep looking great for years.

We use a super durable, reinforced, vinyl mesh banner material, called Dura-Mesh. Dura-Mesh is stronger than typical vinyl mesh material and allows 30% wind pass through which reduces the load on the building surface, doesn't trap water and is easier (lighter) to install.

We finish our wraps with Dura-Guard, the most durable hem on the market. Starting with a 2" hem (vs. 1" that many others use), we use state-of-the-art technology to fuse the hem materials together. This proprietary process creates a reinforced hem that is virtually impossible to tear and will stand up to the rigors of mother nature for the duration of the event or project.

To get started now, upload your artwork with our easy ftp order form. also let us know if any pertinent information such as PMS colors and what you would like your graphics to say. One of our account managers will contact you to go over your information and then provide you with a quote and design for your approval. Once you approve the design, we ship your order in 5-7 business days.

Applications 

Also known as Building Mesh, Large Building Signs, Large Digital Signs, Building Designs, Giant Mesh Banners, Giant Signs, Wall covers, Large Format Printing, Building Covers, Sponsor Banners, Grand Format Printing.


Please call 1- 888 - 610 - SIGN (7446) or click here to get a quote