To get your store noticed, it is imperative to install certain lighting methods that elevate your sign and also enhance your brand value. If you are really thinking hard, then let us tell you that Channel Letters signs are one of the major 'pop' to aim appeal for your business, and thus, undoubtedly brings the potential customers, enhance brand image, address proper business information and attract people. If you are considering to install one, don't wait much: get the right design and also frame the effective and unique piece of signage heighten visibility and easy to read for the people. Let's review further and know the benefits of channel letters for business.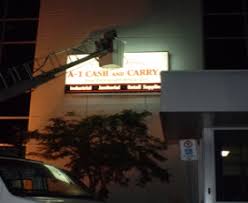 Excellent Visibility: In order to heighten the visibility of your brand name or the store front, get the right design of signs and go noticed from all the corner of the town. If you are further developed it with LED bulbs, the sign gets strengthen and can be observed from the far distance, and in the dark as well. There are a number of types of design and they are, back lit, front lit, halo lit or colorful acrylic facings etc.
Energy Saver: Again, if you are developing your Channel Letters signs, get it to develop LED lights to save more on energy. Hence, increase the visibility and add more light to your store front for a more promising picture to the consumers. Moreover, by doing so, you can invest much less on electricity bill and add more on visibility. To avoid high electricity bill, get LED channel letter signs and adorn them on the front door.
Enhance Brand Promotion: Whether you are an owner of a small business or a big brand or notable franchise, you must sure about your sign that uplifts your entire presence across the market. Simultaneously, to find out more about the impact of your channel letter, get a better design that provides you with a concrete promotional way of your brand. Apply channel letters in a way that helps you to build an impressive image to the people and ensure that all your customers are really appreciate the quality ad well as the visibility of brand signage. If you still not have developed channel letter signs, get it now! Of course, it take time, and also don't forget to replace your traditional format of the conventional brand sign with advanced LED channel letter: Notice the difference, and you may also find more footfalls through your door.
Flexible design: With an array of fabrications, channel letter signs can be customized as per the requirement, and thus, you can imagine anything and build as per the referred design while selecting the right size, color, shape and style. Along with the design customization, don't forget to build as per th elaws, regulation and zoning codes.
Today, there are a hundred of Channel Letters option that helps to illuminate in different ways and highlight the brand image 24*7. hence, choose the right channel letters and translate your creativity and authenticity over brand recognition. With all these notable benefits, make your business more professional, and visible.