Illuminated Sign box
Illuminated Sign Box For Sale in Canada - Custom Lighted Signs Toronto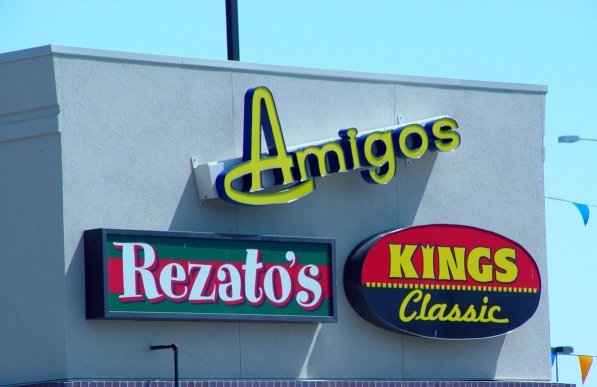 Backlit Signage - This consists of an electric sign box fronted with translucent plastic. Lights in the sign box cause the message to be visible at night. The face can be covered with printed or regular vinyl. Signs Outlet can re-face your existing backlit signage or in some cases create and mount a new backlit sign.Illuminated sign boxes are one of our main product lines. All illuminated sign boxes are manufactured from quality aluminium profiles and electrics.

Faces for illuminated sign boxes are made with Plexiglas or Lexan which is decorated with either computer cut vinyl films, digitally printed backlit vinyl or we can make illuminated sign boxes with display panels made from fret cut and inlaid Perspex.

Illuminated sign boxes made not resold.

A lot of illuminated sign boxes that are advertised on the internet are bought from a direct manufacturer like us and re-sold to customers like you.

Illuminated sign box for sale from the Signs Outlet are manufactured from our own range of aluminium profiles- not only are we making our own illuminated sign boxes we also have our very own illuminated sign box system. This all means you a great product at a great price.

Illuminated sign boxes at trade prices

All our illuminated sign boxes are supplied to you at trade prices. Whether you are a sign company looking for a new source of illuminated sign boxes or you are a retail buyer our illuminated sign boxes are just what you need to get a professional result.

Manufactured from very high quality components our illuminated sign box is stronger and more durable than most.
Custom illuminated signage provides some of the most eye-catching and sophisticated options available in the industry.
From static custom light-box signs to sophisticated electronic digital signage (EDS) systems, Signs Outlet's full-service sign center can offer you the most comprehensive selection of custom illuminated signage.
Industries of all types, from fuel stations to department stores, use custom Illuminated signs. Custom illuminated signs have a great impact and provide effective advertising day and night.
To help you reap the benefits of Illuminated signs Canada, Signs Outlet is pleased to offer a site survey, discuss your needs, and help you determine what options can best accomplish your unique objectives. We are always happy to provide expert recommendations to fulfill your need, meet your budget and exceed your expectations.
Interior Illuminated signs are of great benefit when used in airports, malls, and office buildings. They are particularly effective when used for directory signs and advertisements.
Nothing makes more of an impact than illuminated signs Canada, both day and night!
Let our sign experts help you find the custom illuminated signage system that is best for you!

Call us now at 1 888 610 SIGN (7446) or click here for a quote.If you are the new business owner and want to change the graphics on the storefront illuminated sign then click here
Illuminated Sign box from signs outlet Best custom Light boxes, light sign box displays, backlit displays, light box signs, and lightboxes, sign box, sign cabinet and plastic sign in Canada light box, light box display, backlit display, lightboxes, light box sign, portable light box, poster light box, display lightbox, movie poster light box, trade show light box display, advertising box light, box light slim, box light outdoor. The illuminated sign box consists of translucent acrylic or lexan with your company information. The box is light at the back; this enables the message to be visible in the night. The graphics can be done in several ways and on different materials including translucent vinyl laminated on the acrylic. The vinyl can be custom cut or custom printed on translucent vinyl. Custom Lighted Signs and fabricated Aluminum sign boxes completely wired and installed with high output lamps and electrical transformers. We can replace the existing graphics on the sign face. Our expert team of installers has an expertise in installing signs at various heights.
Please call 1- 888 - 610 - SIGN (7446) or click here to get a quote