Vinyl Banners
We Manufacture Vinyl Banners for sale with Good Quality
If you Want to draw attention to your promotion on your building or outside or inside for your in store customers, or at a sporting event? You can't beat Banners. They are perfect for indoor or outdoor use. Printed in HD using Latex inks giving great durability & life even in direct sunlight.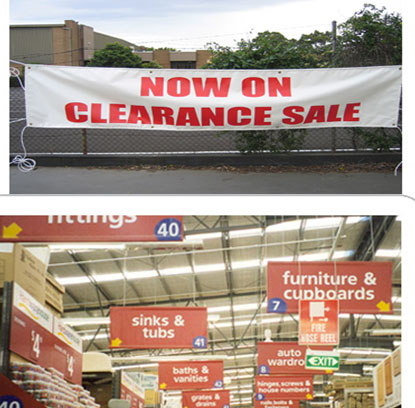 We can print pvc banners to any size required so listing them all on our website would be impossible. Please use the calculator on the above under live chat icon to workout a price guide. We give discounts on qtys so please get in touch with your requirements. please dont hesitate to call us at 1 888 610 SIGN (7446) or click hereto get a quote.
Signs, banners, lettering, window graphics, decals, vehicle graphics, yard signs, directional signs, the best qulity source of vinyl digitally printed banners is signsoutlet in canadaontario ,mississauga.Get Vinyl Banners For Sale!
Save
Why Choose SignsOutlet for Vinyl Banners
Don't you just love it when your banner makes that spectacular visual impact? We have excellent vinyl banners for sale that you can use in your parties and gatherings. You can use our banners on great outdoors, on the streets on lamp posts, or loud and proud indoors. Anywhere you do, you're sure to get a bright and long-lasting impression both on those that are invited and the passers-by.
Make your message stand out over the crowd. We have many different kinds of vinyl banners for sale — various types of gloss and matte vinyl in different print finishes are just the beginning. What's that, you want heat welded hems and nickel grommets? Cool, we'll get onto it pronto!
SignsOutlet has the best options in vertical and horizontal sizing, and we have a ton of variety! This ensures that you have the total flexibility to size your banners for hanging in any space you choose — be it loud and crowded indoors, or bright and clear outdoors.
Long Lasting Lifetime
Our vinyl banners are especially great in the outdoors, no matter the season! The reason for that is the vinyl banners for sale from us are completely waterproof and weatherproof. Don't worry about them fading or washing out — our banners are strong against any weather effects. Our prints stay on in any weather conditions, making sure your banner captures the attention you are looking for as long as you need!
Outdoor Banners
The outdoor vinyl banners we print are made from 13 oz non-porous materials, which happens to have the perfect balance between durability and flexibility. Since the outdoor usage requires both, this would be a perfect choice for your beach party or lawn party banners! Make people on the street turn bedazzled at your message with the vinyl banners for sale from SignsOutlet today!
Window Banners
We print window banners on super smooth block out 12 oz vinyl, that makes for great window ornamentation! They are great for double sided printing and flexible enough so that you can drape them as decor too. Need table banners? These can also serve there! They won't curl or anything, so that you can make a fully professional display on any table front space.
Mesh Banners
How about using outdoor mesh banners, hmm? Don't worry, we got you covered! They won't get torn out due to high winds, thanks to the porous nature of these vinyl banners for sale. What's more, they are so lightweight that you can even use them as light shades, not blocking out the sun completely. Meaning, you can hang them on building displays too. Spread your message in large format!
Worrying about your banner fading out due to sunlight? No way! Besides using various different materials for your banner placement needs, we use strong and durable printing solutions as well. SignsOutlet vinyl banners are printed with ultraviolet cured ink that completely ignores sun exposure. Now never worry about your message fading away!
Please call 1- 888 - 610 - SIGN (7446) or click here to get a quote