Magnetic Signs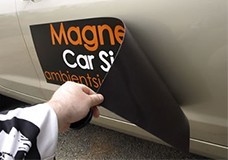 Our long lasting and fade resistant magnetic signs will enable you to portray a professional business-like appearance.
Car magnets are wonderful to use on a personal vehicle because they are so easy to install and remove whenever you wish.Signs Outlet has magnetic signs available in white, black, blue, red, yellow, brown, green, silver, gold, and orange. We also have many fonts and effects available to choose from.
The corners on our signs are rounded off to prevent them from lifting off at high speeds. This will also prevent the signs from becoming dog-eared in the corners over time. The vinyl we use is rated for at least 7 years, so your magnetic signs will still look good over time.
Turn-around Time Our typical turn-around time for our Magnetic Signs is 1 to 2 business days from the time we receive your files and payment.
Our turn-around time is the time it takes us to manufacture your sign and do any necessary trim and finishing work.
(Call us or visit us at any of our locations & get additional 20% off on below posted rates)
Pricing - 10" x 18" Lettering Only - (No graphics or logos)
1 Color lettering
 
2 Color lettering
 
3 Color lettering
$49     2 Signs (1 pair)
$69     3 Signs              
$93     4 Signs (2 pair)
$125   6 Signs (3 pair)
$157   8 Signs (4 pair)
$59    2 Signs (1 pair)
$81     3 Signs              
$108   4 Signs (2 pair)
$148   6 Signs (3 pair)
$199   8 Signs (4 pair)
$69     2 Signs (1 pair)
$95     3 Signs              
$125   4 Signs (2 pair)
$170   6 Signs (3 pair)
$225   8 Signs (4 pair)
 Pricing - 11" x 20" Lettering Only - (No graphics or logos)
1 Color lettering
 
2 Color lettering
 
3 Color lettering
$54     2 Signs (1 pair)
$78     3 Signs              
$103   4 Signs (2 pair)
$138   6 Signs (3 pair)
$173   8 Signs (4 pair)
$64    2 Signs (1 pair)
$92    3 Signs              
$118  4 Signs (2 pair)
$160  6 Signs (3 pair)
$215  8 Signs (4 pair)
$74   2 Signs (1 pair)
$101   3 Signs           
$135   4 Signs (2 pair)
$185   6 Signs (3 pair)
$249   8 Signs (4 pair)
 Pricing - 12" x 24" Lettering Only- (No graphics or logos)
1 Color lettering
 
2 Color lettering
 
3 Color lettering
$59     2 Signs (1 pair)
$85     3 Signs              
$110   4 Signs (2 pair)
$150   6 Signs (3 pair)
$189   8 Signs (4 pair)
$69    2 Signs (1pair)
$95     3 Signs              
$126   4 Signs (2 pair)
$172   6 Signs (3 pair)
$232   8 Signs (4 pair)
$79     2 Signs (1 pair)
$108   3 Signs             
$144   4 Signs (2 pair)
$198   6 Signs (3 pair)
$266   8 Signs (4 pair)

for designing and graphics add 25% & for logo add $ 23
Please call 1- 888 - 610 - SIGN (7446) or click here to get a quote